about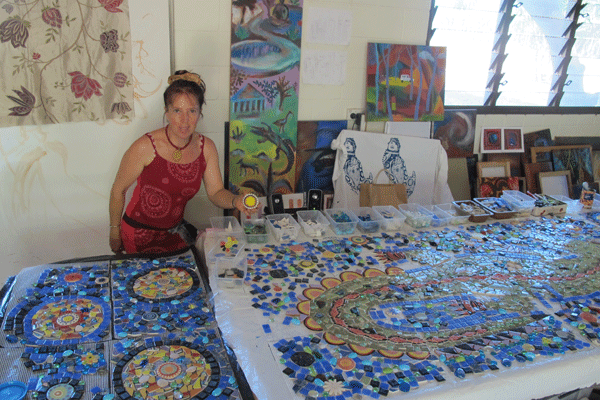 I grew up in a Magic Box, a very suburban London house, whose walls and rooms continually transformed to feature my father's own paintings; a collection of ancient sculptures from all over the world; plus 'found objects' amongst carefully chosen theatrical furniture from various nearby second hand shops. My mother complimented this world with painting the 'heart' of the house, a deep warm orange and furnishing each room with her Swedish hand woven floor rugs. A cardboard pantomime cow's head she had made for a children's show peeped out over the Swedish grandfather clock propped up in our dining room. This was a world where anything could happen, a feeling of freedom to change one's identity through mask, costume, play and music. As far as I can remember, the outside suburban world was grey, whilst the inside throbbed with a gypsy streak of passion. The world they created together sung out to us that art was integral to living, a vital life force essential to living and communicating with each other and the outside world. As a result, my three sisters have become musicians, puppeteers and ceramicists. I cross these fields to create my own art for exhibitions, events and public art commissions, in tandem with arts facilitation, training and residencies in mosaics, textiles and painting in urban and remote communities.
From those early years in my life, I have always strived to create that essential link of Art as a necessary part of life. After a Combined Arts degree in Art and Drama, I joined the London based arts group Emergency Exit Arts, as Designer/Maker for Festivals and theatrical shows. I evolved my freelance business to encompass new contexts: Exhibition Design for special exhibitions at museums, Festival Site Design for festivals and special events and Public Artworks in the form of handmade ceramic mosaics and murals. In tandem with my art and design practise, I trained as an educator to follow my passion of opening my world to children and adults in residencies and training programmes in schools and communities throughout the UK.
After working professionally in the UK for over 10 years, I stepped into the incredible world of Australia in 2001. My visits to remote communities in the north particularly heightened my search to create art that is an integral part life. For the first time, I found my role as artist and educator as a necessary and important one. Art is at the very centre of indigenous culture particularly, not simply a luxury hobby as seen in Western European tradition. Each commission and community project offers the two way learning process as the artworks emerge and this is what feeds me. This and the multicultural people of the north, who celebrate the arts in so many different ways. The constantly astounding raw nature of the Outback, the insects, birds, animals, landscape and changing seasons continue to surprise and inspire me on a daily basis giving ideas for developing new artworks for exhibition and commission.