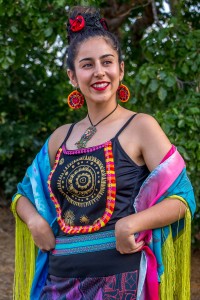 Exhibition at Tactile Arts in October 2019, focussed on Re-cycling, Re-creating and Re-loving fabrics and materials to create fashion, homewares, sculptures and new paintings.
Participating artists: Janie Andrews, Carmel Ryan, Peta Smith and Jackie O'Toole.
Image: Rochita Novoa modelling Janie Andrews' outfit 'Frida skirt' with hand painted silk shawl and upcycled lampshade tassel braid, screen printed singlet with trim.